AIM Service Layer (AIMSL)
Introduction
The pan-European AIS Database (EAD) already offers wide-spread access and dissemination of Aeronautical information to external systems in a secure and reliable manner. Historically this has been built upon JMS based SonicMQ (MoM), with B2B clients accessing the services/data via a Java-based interface called ESI (EAD System Interface).
In EAD Release 7, a new subsystem has been added to the EAD called the AIM Service Layer (AIMSL). With this subsystem, the EAD begins to move away from proprietary interfaces and to deliver system functionality as a set of interoperable services, according to Service-Oriented Architecture (SOA) principles.
Objectives
The main objectives for the AIMSL are to:
Provide interfaces to EAD subsystems using open, standard technologies that enable interoperability, in particular web services
Remove dependencies on a bespoke client API and dedicated middleware;
Provide the possibility to develop value-added services for clients without directly impacting the back-end subsystems (SDO, INO, PAMS).
Examples of the technologies that will be applied are:
HTTP as the primary network protocol
SOAP/XML as the initial payload format
XML Schema for the XML structure
UDDI for web services registry and lookup
WSDL to describe web services interfaces
WFS to provide access to spatial data
Architecture
AIMSL provides the middle tier of a 3-tier architecture. It sits between the consumer applications and the backend EAD subsystems, providing interfaces and value-added services as required.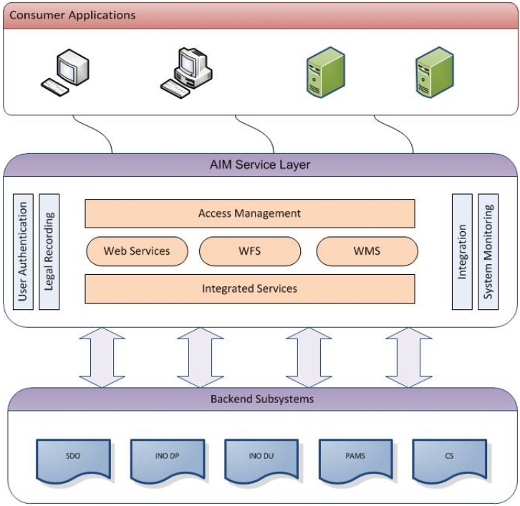 Work Plan
AIMSL was introduced with Release 7. The basic AIMSL platform was implemented along with an initial set of web services. These cover:
SDO Data User Functions (SDO Reporting and SDO Query)
PAMS Data User Functions (Search and Download)
INO Data User Functions (Single NOTAM Retrieval and PIB Retrieval)
With Release 8 additional web services have been implemented, including a publish-subscribe mechanism to allow NOTAM and SNOWTAM downloads based on subscription, and INO Data Provider functionality that can be utilised by ANSPs to store and validate NOTAM in EAD.
In future it is planned to provide query functionality for static data using WFS (Web Feature Service).
Relationship with SESAR
The SESAR (Single European Sky ATM Research) programme is intended to define, develop and deploy the next generation ATM system for Europe. It consists of a number of different key features and concepts. One of these is System-Wide Information Management (SWIM). This defines how information shall be managed, maintained and distributed. SWIM is being developed based on a set of principles including:
Separation of information provision and consumption
Loose system coupling
Use of open standards
Use of service-oriented architecture
AIMSL is being developed in accordance with these principles. The intention is that through AIMSL, the EAD will be able to act as an Aeronautical Information Management System within the SESAR target concept and exchange information with other systems through SWIM.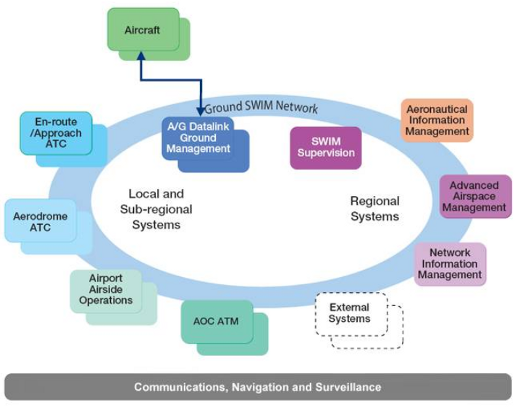 SWIM is being developed in SESAR by a number of dedicated projects that fall into three categories:
WP8.1 : Information Data Modelling
WP8.3 : Information Service Modelling
WP14 : SWIM Technical Architecture
AIMSL shall follow developments within these projects and where appropriate, shall use the validated models and specifications produced as an input to its own evolutions. The goal is that at the end of the SESAR development phase, the EAD will be recognised as a SWIM-compliant AIM system.
The European AIS Database
For detailed information about EAD – including the latest news, events, training opportunities, and much more – see the EAD general website.
You will also find explanations of EAD's solutions for aeronautical industry specialists, including EAD Pro and MyEAD.
Aeronautical Information Forum
AIS AGORA is the AIS/AIM Portal. It contains information and links to all AIS/AIM websites, points of contact and other relevant information.